Client Choice Food Pantry
North End Community Ministry offers a Client-Choice Food Pantry to all of those located in our pantry service area. The pantry provides our clients with a 3-4 day supply of  food and personal care products once a month. The food pantry has a grocery store setting and feel to it which empowers our clients to pick and choose a variety of foods they need and want for their families. This enables them to choose form nutritious and healthy food items they can use to create meals for their families. By giving them a choice rather then sending them off with a box of already chosen items, we respect the decisions and dignity of each of our clients.
Emergency Food Pantry (3-4 day supply)
Grocery Store setting
Empowers clients to pick and choose a variety of foods
Serves more than 650 families per month with food
No Cost
Over the years NECM has built lasting relationships with donors and businesses that continually help to keep our food pantry shelves stocked and ready to serve. Organizations such as Costco, Family Fare, Forest Hills Foods and Panera Bread have all provided us with the resources to serve and provide for our community. Relationship with Plainfield and Alpine Meijer Stores 'Simply Give' Program, together with community donors and matched by Meijer Corporation generates gift cards that are given to NECM to purchase food to keep the food pantries well stocked. NECM also has established a relationship with Spartan Nash for its 'Scan Hunger' Campaign.
NECM is grateful for its 'Support Pantries' that provide direly needed food to support its efforts.  The Support Pantries are:
St. Alphonsus Roman Catholic Church
Berean Baptist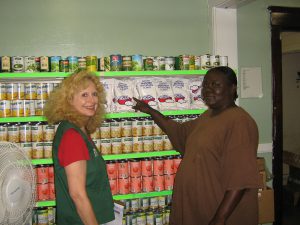 Food Pantry Locations and Operating Days and Times:

NECM (in New City Church):
Location: New City Church, 214 Spencer St. NE Grand Rapids, MI 49505

Open: Tuesday, Wednesday, Thursday,  9AM-12:30PM
Leonard Terrace Senior Citizen Food Pantry:
Location: Leonard Terrace Apartments, 1315 Leonard St. NE, Grand Rapids, MI  49505

Open: 4th Tuesday of the Month, 9AM-12 Noon
Diabetic Food Pantry:
Location: NECM (in New City Church), 214 Spencer St. NE Grand Rapids, MI 49505

Open: Tuesday, Wednesday, Thursday, 9:00 AM-12:30 PM (by appointment)
First time pantry visitors please bring
A picture ID for every adult living in your household (Michigan Driver's license, or State ID).
If address is outdated on ID, please bring in a current utility bill, lease or official piece of mail (less than 30 days old).
Birth Certificate, School Records or immunization record.
Proof of Income (current income tax return, paycheck stub, Medicaid cards, unemployment stub, etc.)
Volunteers are the heart of the food pantry and help run it day to day. Lending a helping hand and offering their time to assist in meeting the needs of the community, is a great way to volunteer and get to know our clients. If you would like to get involved, please visit our page today to receive more information.
The food pantry is always in need of items to keep the pantry stocked.
Pantry needs:
meat
fruit
vegetables
pasta
spaghetti sauce
fruit juice
cereal
Personal care items:
bar soap
shampoo
toothpaste
deodorant
toilet tissue
shaving creme & shavers
diapers
Clients:  If you bring in your own bag, you can receive 1 extra item of food!